Marshmallow Coding Returns
December 26, 2016 by wendy

As the founder of Marshmallow Coding, I'm excited to announce that Marshmallow Coding will be returning in 2017 with a new mission.
What happened in 2016?
This past year, I had the honour of working with another non-profit organization called Kids Code Jeunesse. As their Western Regional Coordinator, I helped bring their coding programs and workshops to BC. I also had the amazing opportunity to work in partnership with the BC Ministry of Education and Lighthouse Labs to develop and deliver teacher training and student learning resources to support computational thinking and coding in BC's new curriculum. Although this experience has been incredibly rewarding, I'm ready to return to Marshmallow Coding to renew our efforts in promoting accessible computer science education for all children.
Marshmallow Coding's New Mission
Our new mission is to become the go-to website for teachers and parents who want to find the best coding resources for their students and children. We'll start by gathering and reviewing the top children's computer programming books. Eventually, we hope to curate other types of resources as well, including games, apps, and electronics and robotics kits.
Thank you, Renee and Brad
I'd like to take a moment to thank Renee, a middle school teacher in Colorado, and her student, Brad, for sharing a coding resource with us a few weeks ago. They had been doing some research on Brad's new interest in computer programming, and they found not only our website, but also the IT Hare website, which contained a very helpful Beginner's Guide to Programming Languages. We encourage anyone who's interested in getting an overview of various programming languages to check it out.
Thank you to our supporters
Lastly, I'd like to thank everyone who has continued to support us over the past year, especially our social media followers. We're excited to be back in the community, and we look forward to engaging with everyone in conversations on education and technology!
---
Marshmallow Coding founder Wendy Hoy joins Kids Code Jeunesse
February 17, 2016 by wendy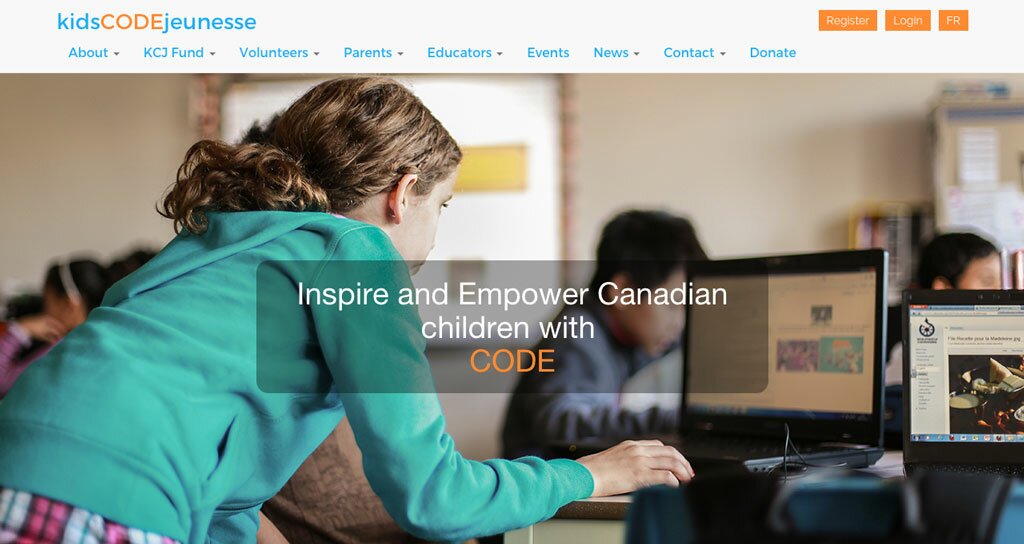 It is my honour to announce that this month, I joined Kids Code Jeunesse, a non-profit organization dedicated to empowering Canadian children with code, as their Western Regional Coordinator to help bring their coding programs to BC. I'm thrilled to be joining such a talented team and to have the opportunity to inspire even more young people with code!
What does this mean for Marshmallow Coding?
Marshmallow Coding will no longer offer the Coding for Kids program; however, we will continue to fulfill requests that we've already confirmed until the end of this school year.
What will happen to the website?
Over the next several weeks, we'll be updating the website to reflect this change. We'll do our best to keep existing resources available, and in the future, we may even add more online resources. Although this is my last blog post here, you'll find me on the Kids Code Jeunesse blog very soon.
What will happen to Facebook and Twitter?
For now, we plan to continue to update our Facebook and Twitter channels with resources that we think are valuable to our followers.
Thank you to all of our supporters!
Thank you so much to all of the teachers, students, librarians, and other members of the community who have supported our cause. We wouldn't have made it this far without you. We look forward to working with you again in our next adventure.
---
Looking back at 2015
January 12, 2016 by wendy

When we started offering Coding for Kids this past September, we didn't know what to expect. Would teachers and students want to learn about coding in the classroom? It turns out that the answer is yes! And we're so grateful for the support we've had from educators, community organizations, students, and parents. We thank you!
Coding for Kids in the classroom
Since September, we've visited 8 elementary school classrooms across Metro Vancouver, including:
John Norquay Elementary
Tomekichi Homma Elementary
Surrey Academy of Innovative Learning at Brookside Elementary
David Livingstone Elementary
William F. Davidson Elementary
Dr. F.D. Sinclair Elementary
George T. Cunningham Elementary
That's 238 students, 50 coding sessions, and up to 72 hours of coding!
Hour of Code in the community

We also partnered with Richmond Public Library and Surrey Schools Community Schools Partnership to provide free after school workshops. We held 3 weeks of the Hour of Code where students tried different coding puzzles, tutorials, and projects. For many, it was their first hands-on coding experience.
What we learned

Students enjoy using code to express their creativity. They love designing personal projects and sharing their creations with others. They understand that coding allows them to communicate, and when their code doesn't do what they want, they "keep trying and never give up".
Students were engaged and excited with the program. Wendy and Sean gave them just enough information with each session to push their understanding and skills using Scratch. They continue to be excited and are ready to take what they've learned to create more.

Ms. Scott, Grade 4/5 Teacher
Teachers love that the program allows students to "express their creativity in a positive and engaging way" as well as "work at their own pace and to their potential". In particular, students who struggle academically or are new to English are still able to participate, follow along, and create amazing projects.
The Coding for Kids Program was an incredible experience for my Grade 5's and 6's. There are several needy students in my class, both academically and emotionally, and this program allowed them to enjoy success at different levels. I have an ESL student that would barely function in the classroom, but when introduced to this program, was able to create an elaborate project which was enjoyed by the whole class

Mr. Lam, Grade 5/6 Teacher
Looking forward to 2016
For the remainder of the 2015 to 2016 school year, we're excited to be returning to Homma and Cunningham Elementary, and to be visiting:
R.C. Talmey Elementary
Twelfth Avenue Elementary
Walnut Road Elementary
Saint Pius X Elementary
Maillard Middle School
William Cook Elementary
South Park Elementary
That's 80 more sessions and over 100 more hours of coding!
In the community, we'll be partnering with New Westminster Public Library and Burnaby Public Library in addition to our existing partnerships with Richmond Public Library and Surrey Schools Community Schools Partnership to provide free after school workshops. Please follow us on Facebook and Twitter to get the latest news!
On behalf of everyone at Marshmallow Coding, thank you for supporting our cause and helping us to give every child the opportunity to learn how to code!
---
Thank you, Free Geek!
May 21, 2015 by wendy

At Marshmallow Coding, we'd like to express our sincere gratitude to Free Geek Vancouver for providing us with 6 laptops through their hardware grants program.
Our story with Free Geek
When I first started thinking about the types of programs that Marshmallow Coding would offer, I thought that Scratch would be great for children who could read, but what about children who were younger?
Through my research, I found the LEGO Education WeDo Construction Set, which introduces children to robotics. They can build models by combining traditional LEGO bricks with motors and sensors, and then program the motors and sensors using an icon-based programming language within the WeDo software.
I was excited to have found this new resource, but I was missing a couple of things: the LEGO sets and computers to run the WeDo software. Luckily, a friend introduced me to Adrian, Production Coordinator at Free Geek Vancouver, who told me about their hardware grants program.
Hardware grants made easy
Adrian was wonderful to work with throughout the grant process. After submitting an online application, he followed up with some questions, and along the way, he kept me informed of their progress. Then a couple of weeks ago, he told me they had 6 laptops ready for pickup. I finally met Adrian in person as well as their Laptop Build Coordinator. They made sure I had everything that I needed, helped me to my car, and informed me of Open Help Night on Wednesdays in case I ever needed free support.
Robotics for kids coming soon
Now that we have the laptops, our next step is to acquire the LEGO sets. We hope to launch our robotics program next year, and Free Geek will have made that possible. To learn more about Free Geek, visit the Free Geek website.
---
Tech for Kids and Marshmallow Coding team up
May 13, 2015 by wendy

For every elementary school that receives a computer donation from Tech for Kids, Marshmallow Coding will provide up to 10 free coding lessons.
Today, we're excited to announce our partnership with Tech for Kids! Tech for Kids is a non-profit organization that aims to empower kids with technology. Every quarter, they gather and refurbish computers to donate to schools, families, and organizations that need computers to educate children.
Computers and coding together
With our new partnership, for every elementary school that receives a computer donation from Tech for Kids, Marshmallow Coding will provide up to 10 free coding lessons. To date, Tech for Kids has donated computers to Lord Roberts Elementary, Strawberry Hill Elementary, and Renfrew Elementary, and there are more donations to come.
Shared vision and values
At Marshmallow Coding, we're thrilled to be partnering with another organization that also values making technology education accessible for all children, and working together to give back to our community. If you know a school in Metro Vancouver that needs computers, or you'd like more information, visit the Tech for Kids website.
---